Roughly 30% of the web runs on WordPress and that number is growing. WordPress owns 60% + of the total CMS market share, followed far behind by its closest competitors Drupal and Joomla.
When it comes to managing and maintaining an effective website, WordPress continues to be the gold standard for successful companies. It offers a flexible framework on which to design, develop and expand your business's online presence.
Total Website Market Share 2017 (including no CMS)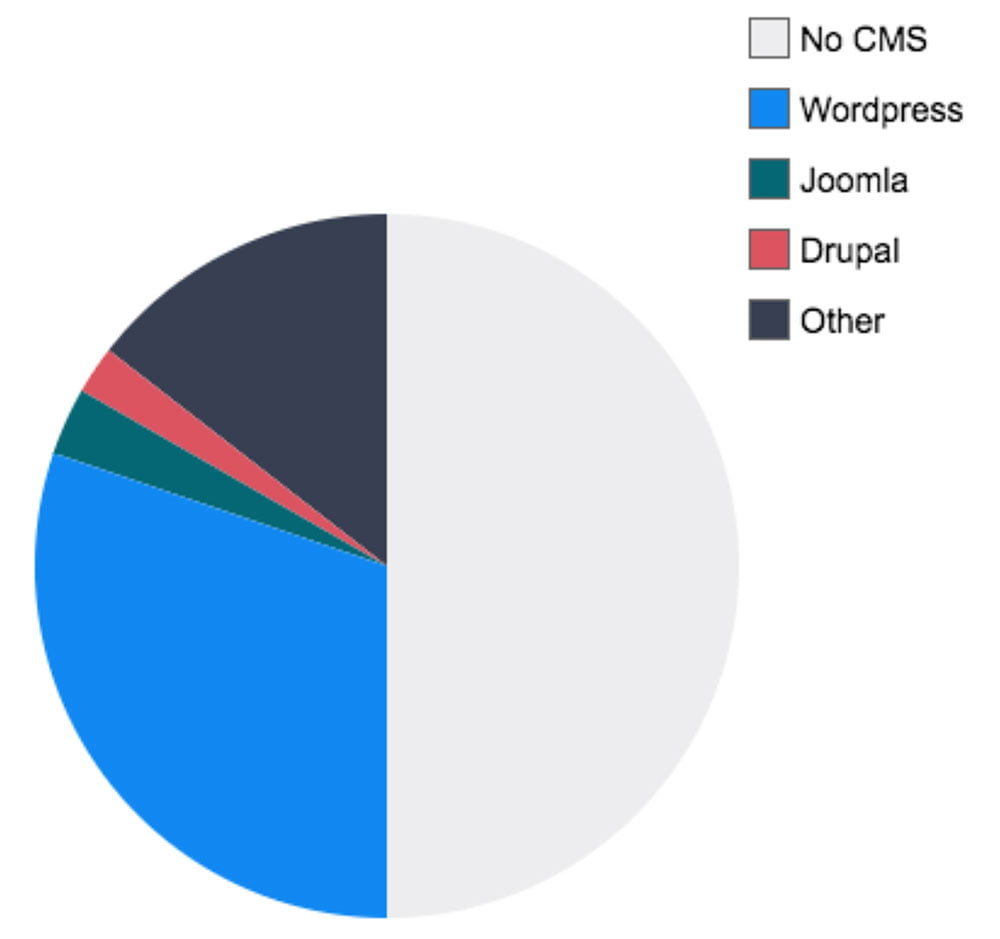 Source: W3Techs
CMS Market Share 2017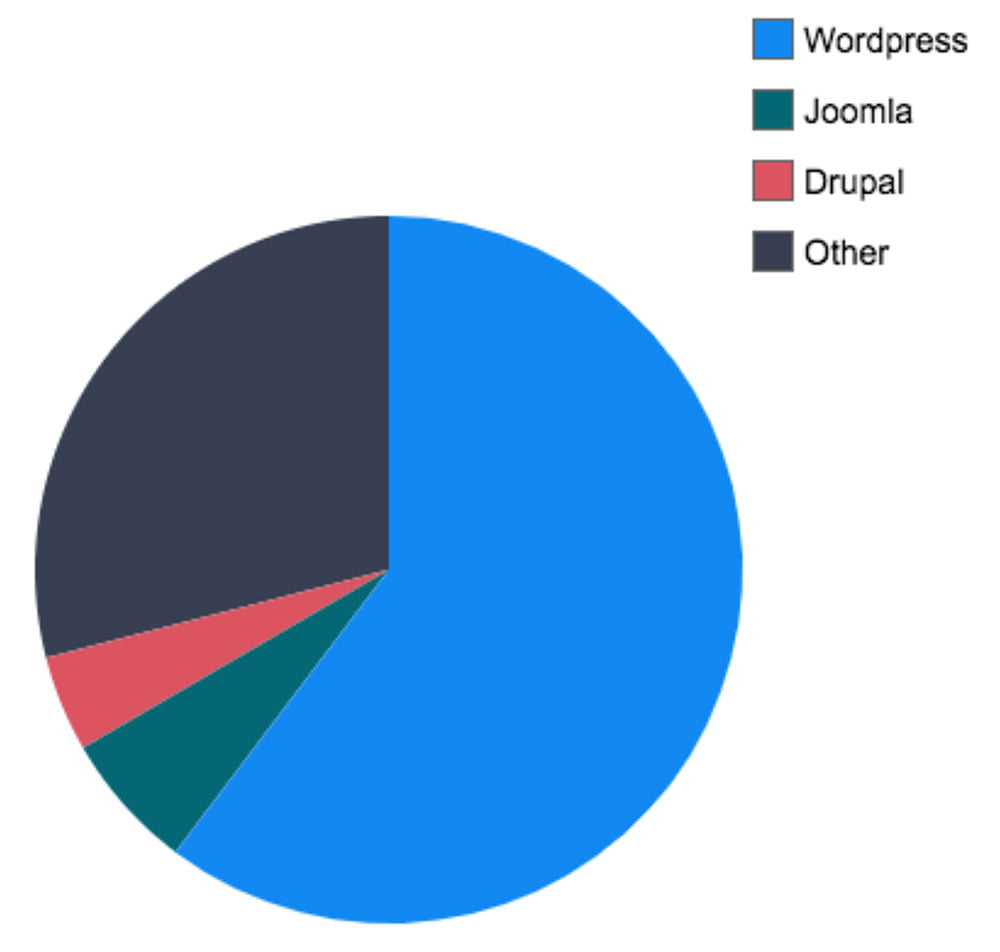 Source: W3Techs
Why is wordpress the best? In one sentence, the ROI is incomparable to other CMS options that either require too much manual effort, coding and configuration, or the opposite - drag and drop website builders with extremely rigid, dead end frameworks. WordPress is the Goldilocks platform where everything is just right.
So how did WordPress achieve such web domination and near monopoly in the CMS marketplace?
Fun Fact! 
WordPress is translated into 56 languages
WordPress delivers the best value for money
WordPress has a quick & relatively easy development cycle
WordPress has a global library of components, plugins and tools that solely exist to make life a bit easier for the web developer. This leaves more time and energy to focus on lead generation and web marketing rather than endlessly tinkering through thousands of lines of code on more "raw" alternatives like Joomla and Drupal.
And because the system is so flexible, scalable and extensive, you don't have to worry so much about eventually hitting a wall, like you would with cheap website builders: Wix, Weebly, GoDaddy and Squarespace. More likely than not, you will not grow out of WordPress like you would on these common builders. The sky is the limit for most businesses.
High quality WordPress websites for businesses can cost ~ $4000
Contrast the cost of building a professional WordPress site with the cost of a fully customized business sites done on any other CMS platform. Figures in the $15 000+ range are the norm.
And the emphasis here is on "passing a reasonable threshold of quality". We are not talking about hobby websites or cheap website builders or mass produced templates. Even if you can fool enough people with a decent looking Wix website, you'll end up trapped when it comes to lead generation, SEO or any type of out-of-the-box customizations. Not to mention, you still have to build the website: content, graphics, icons, images - most of it has to be gathered, integrated, formatted and customized to some extent. Most business owners would rather do it once and do it properly, rather than repeat the process twice because they chose a dead-end platform to begin with.
A high quality website built in WordPress will most often provide the best return on investment by far. Take a look some industry average prices for different types of websites.
You're in good company
If you are a WordPress user, you are in good company. Various famous sites are powered by WordPress; below are just a few notable mentions.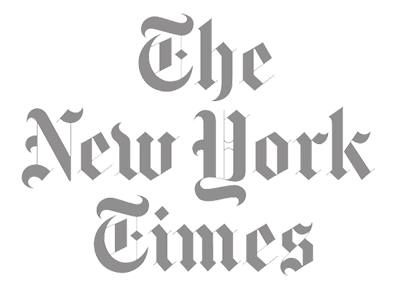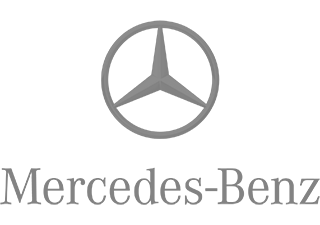 WordPress is Free
WordPress is a free open source software. This means you are not obligated to pay any upfront cost, license fee or monthly support costs to "Wordpress" like you would have to for other website builders: Wix, Weebly, Squarespace or GoDaddy.
You can run a simple WordPress blog at yourdomain.wordpress.com for literally $0.00. WordPress also has a vast selection of free themes and plugins that any fun-loving blogger can play around with.
However, if you're a business, you'll still need to hire a professional WordPress web developer if you want to accomplish anything meaningful. Sorry, the "free" part just won't cut it unless your market has really low expectations. You will likely require a premium theme, appropriate lead gen tools and a decent web maintenance plan.
The good news is - you can shop around, and move around. You're not locked into a single provider, and you will have 100% ownership of your website and its files.
WordPress updates and new version releases are also free, and although performing some of them can be a chore, the value in the end is incomparable to the alternatives.
WordPress is an SEO Powerhouse
Custom Categories and Tags
Google loves WordPress because of its search engine friendly structure. Logical website categories, hierarchy and taxonomy is important to let search engines crawl your website easily and understand how to index it. Adding tags (keywords) to each category and images further improves your search placement and WordPress makes this super easy!
SEO-Friendly URL structure
WordPress provides the capability of adding keywords to the URLs right out of the box - very important for on-page SEO. Normally, a permalink structure looks something like this: http://yourdomain.com/?p=123. WordPress gets that unfriendly URL out of the way and lets you focus on your keywords: http://yourdomain.com/keywords
Powerful SEO plugins
WordPress has full-featured SEO plugins (example: YOAST SEO) - that contain an arsenal of tools: XML sitemaps, canonical URLs, easy meta data control, and more. You can also integrate a wide range of social media share tools, which will give your articles some SEO juice.
WordPress also loads fast out of the box.
But of course, if you build a custom, resource-intensive website, you will have to compress everything and this can be a big project. This applies to any website on any CMS. Fortunately, WordPress has the structure and the tools to get the job done relatively effectively and easily.
When performing on-page SEO in WordPress, no more worrying about installing endless plugins and configuring a hundred details manually. Only worry about your content.
WordPress was built for blogging
It's no secret that a frequently updated blog with high quality content and social "buzz" is like a drug for Google. Search engines are highly attracted to libraries of optimized content, frequent updates, and the sharing of content. Content is king, and WordPress is built around creating content first, your website second. It helps that WordPress actually started out as a blogging platform and evolved for 15 years to become the best marriage of a website / content marketing tool the world has seen thus far.
WordPress is maintained by a giant army of geeks
The WordPress community consists of talented coders, test drivers and support networks who are constantly developing and improving upon the software. In contrast with proprietary websites / CMSs, you avoid having to upgrade and improve the software in house - an expensive feat that's impractical for most businesses.
WordPress meets W3C guidelines and follows best practices outlined by leading search engines. The worldwide WordPress community works tirelessly to ensure the software is compatible with all modern browsers such as Chrome, Firefox, Opera and Explorer.
In general, if you're running an up-to-date WordPress site, you'll be taken care of. If you don't like your current web development company or maintenance plan, you can switch very easily. There is no shortage of WP developers eager to help you with your next project.
With WordPress, you have infinite options; you are only limited by your imagination.
Fun Fact! 
WordPress has 44,000+ Plugins with over 1.3 Billion downloads