Gear up your on-page SEO for 2021
Maximize your website's on-page SEO factors using the latest SEO tools and speed boosting technology.
Google's search algorithm is constantly changing and evolving.
The content, programming, layout and speed of a web page all influence search engine ranking. We are up-to-date on Google's most impactful algorithms.
On-Page SEO: Quality Content + Technical SEO
On-page SEO lays the foundation for high search engine rankings and all subsequent SEO-related activities. It consists of 2 parts: technical SEO and quality content building. To achieve meaningful SEO results in 2021, you need both. Technical SEO covers all the technical configuration aspects of your website such as meta data, URLs, redirects, header tags, optimal page lay-outs, sitemaps, and more, while the development of unique, quality content drives your traffic.
'Content is King'
It's not news anymore: for successful inbound marketing, every business needs an active blog, news, case studies or resources section. Optimizing technically will significantly support and enhance the visibility of this content to search engines. If there is no content on your website or the content is negligible, then what exactly are we optimizing? Your Home, About, Products and Services pages are not enough to compete with a billion other websites that all have the same pages as you.
Businesses today need to go beyond the basic pages and add real value, insight and expertise within their respective fields. Not only will Google reward your website with high rankings and healthy doses of traffic, but more importantly, users will convert at higher rates.
Technical SEO: Simplify your checklist.
Before we embark on our on-page SEO journey, understand that no dynamic website can complete all the 'recommended' optimization requirements. Avoid the big mistake that website owners tend to make: the painstaking analysis of every SEO item on their checklist and sweating over a few items that are not possible or technically impractical. It's ok! You will not achieve a perfect score, and nearly all websites at the top of any Google search are optimized up to a certain threshold, but few come close to the 100% mark.
Websites should cover at least the major items:
A frequently updated blog with high quality content

Optimized title tags and meta-descriptions

Optimized images and heading tags

Avoid slow website speed at all costs
A more detailed view of the on-page SEO process is described below. The items are not a checklist; they are cumulative gains that are incrementally beneficial to ranking high.
Speed Optimization
Page Speed is integral part of every SEO strategy. It's one of the few ranking signals that Google has publicly confirmed.
Every website needs to pass a certain speed threshold. If your site is too slow, you will never rank well, even if you account for all other factors. It's critical that your website loads relatively quickly and provides a smooth user experience.
How page speed impacts search engine rank
Speed optimization is a huge component of on page SEO and sometimes accounts for the bulk of the work done in SEO improvement. Check your website's page speed with Google's Page Speed Checker
Ever since Google introduced website engagement factors as a significant influence to it's rankings, page speed has become critical to maintaining a good search position. Slow load times lead to higher bounce rates, which in turn, lead to lower user engagement. Google now takes into account user behavior data when indexing your website. In fact, Google has revealed that just a half second's difference in load times can reduce website traffic by up to 20%!
Page speed improvement is the part of SEO that sometimes involves sacrifice. Do you really want to have that giant animation, chat support, big high res image and action-packed content at the expense of on-page SEO, loading time and possibly conversions? Strike a balance. Or at least compress everything that you possibly can.
Our 3-Step On-page SEO Process for Competitive Websites
How do you optimize the actual content of the web page?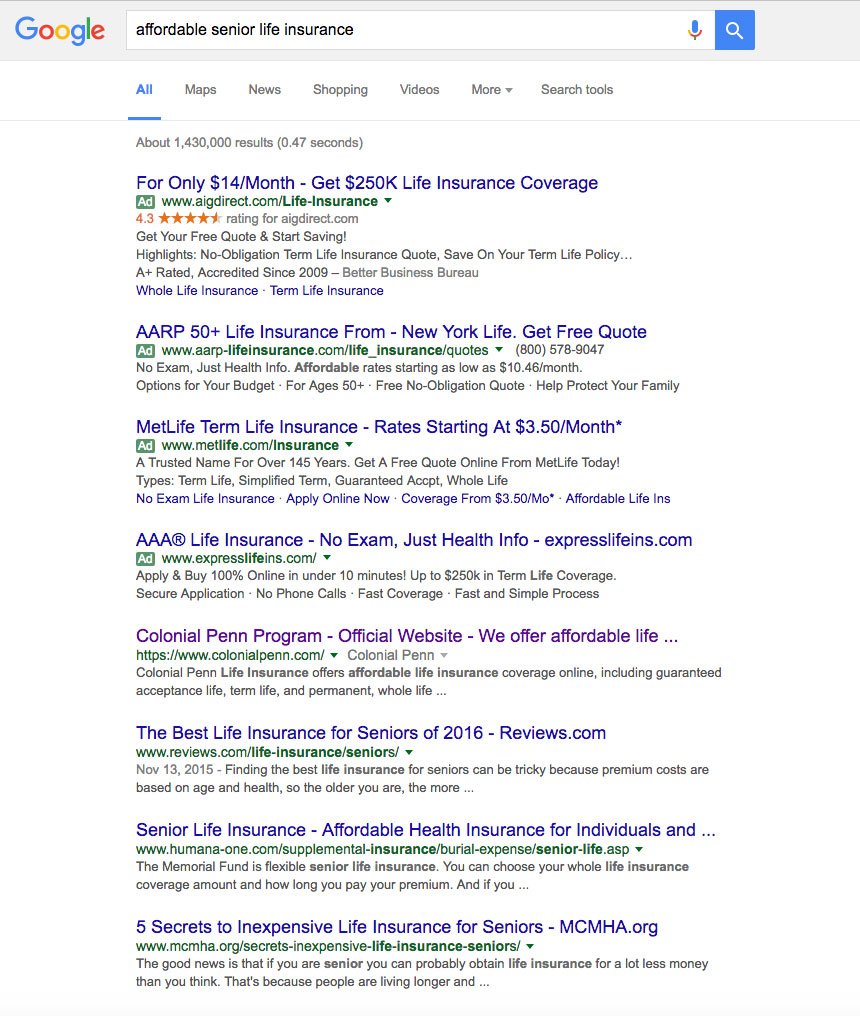 Long-Tail Keyword Research
We can't just write website content randomly anymore. It's like throwing darts in the dark, and not even knowing the direction of the dartboard. Keywords first. Writing second.
Good keyword research should be the foundation of all your SEO landing pages. You should not select keywords with competition that's too high, such as "life insurance." Conversely, you should not select keywords that no one searches for either, such as "Joe's life insurance."
Want to check if your competition is too high? Do a quick Google search for your target keyword. If your top 10 results consist of big dinosaurs like Wikipedia, Amazon, giant media conglomerates or huge companies, try again. Time to find a more realistic keyword.
Enter "long-tail keywords." Long-tail keywords are great for small businesses because they target untapped sources of traffic. By adding little tails to our search queries, such as "compare," "quotes," "senior," or "discount", we can narrow results to lists we can actually compete with. Especially effective are keywords that indicate buyer intent such as "senior life insurance deals" or "affordable senior life insurance."
Here are some keyword tools we love that offer objective information on traffic and keyword value: Adwords Suggestion Bid and Moz Keyword tool
Content Development
Once we narrowed down our 'moderate-high traffic, low-competition, long-tail keyword' that indicates some level of buyer intent, it's time to write about that topic. Again, look at the current top 3 website results for your chosen keyword, can you beat their content? Can you make your content more detailed, more visual, more defined, more elaborate, more engaging and just better?
Content optimization is the art of improving content in a way that search engines favor. For an SEO landing page, here are 2 big general content factors that improve ranking:
1. Word Count - Quality counts, but so does the quantity of the quality. Aim for ~2000 words per page.
2. LSI keywords - Forget keyword density. It's super spammy. Use synonyms and keyword-related semantics
SEO is ultimately about showing Google and your target market that your content deserves to be at the front of the line because it provides the most value to any user searching for that specific term.
Technical SEO
The final stage of on-page SEO refers to the technical anatomy of a perfectly optimized page. This is where we spruce up our title tags, headings and meta-descriptions as outlined in detail above. Our URLs need to be SEO-friendly, our pages should load fast, and our images should all have alt tags, etc.
While backlinks continue to dominate impact on SEO, you still have to nail most technicals in order to rank. Sure, 'content is king' but 'the user is also king.' Google is focusing more and more on user experience and bounce rates.
Here are some 'search experience optimization' factors that will be hugely emphasized in the coming years:
1. Ensure your website is 100% optimized for mobile devices
2. Ensure your website is highly optimized for speed
3. Ensure your search engine bounce rate stays as low as possible
Tell us about your new project.
We'd love to hear about your business and how we can help it grow.